Today is UPCAT day as well as tomorrow, so even Saturday classes (my 2 MA classes included) had a holiday. I've time to post a dual-boot guide.
For best results/hackintosh experience. Update to HP Mini 311 BIOS - F.15.
You can install the stock HP F.15 BIOS which can be installed in Windows or icelord's de-whitelisted version (which unlocks the PCI slots) by manually flashing the machine.
Installation Method 1 - DVD/Optical media method
BootCD.iso

- burn this onto a blank CD-R. I recommend using the slowest setting to ensure no write errors occur.

Snow Leoaprd Mac OS X Retail DVD - 10.6 base up to latest, 10.6.4 currently, should work fine. DO NOT use the restore DVD's that are shipped with real Macs (won't work) but get instead the store-bought shrink-wrapped copy from your local Apple Store or Apple Reseller.

Current Project Release -

HPM311DP HF6 Installer

as we speak.

External USB DVD drive - there HP Mini 311 models with sales packages including a Light Scribe external DVD writer drive.

Windows 7 DVD Installer.
With the DVD drive connected to the Mini 311 (with enough battery of course or plugged directly to an power outlet), load the BootCD-altPS2 disc you've just burned. As you power on the Mini 311, press

F9

.

You will see a boot menu list. Use the arrow keys to choose your DVD drive and press

Enter

to boot from it.

When Chameleon has loaded, you'll see list of icons representing drives in your system to boot from. Manually eject the DVD drive and replace BootCD-altPS2 with the Snow Leo Mac OS X Retail DVD. Wait until the drive fully loads the new DVD you've inserted as indicated by the drive's led light and/or until you hear it's finished loading the new DVD (some light mechanical sound and then drive becomes quiet).

Press F5 to refresh the Chameleon boot menu. Normally, the "

Mac OS X Install DVD

" entry is added at the far right of the horizontal row of drives available. Use arrow keys to select "

Mac OS X Install DVD

" and press Enter key.

Once you've selected the language, go to

Utilities

>

Disk Utility

>

Partition

. Create 2 partitions - the 1st partition for Windows, the 2nd for Mac OS X. For now, you can format both of the drives as "

GUID Partition Table

" and "

HFS Journaled (Extended)

". I also suggest you name the resulting volume "

Macintosh HD

", just like in real Macs.

Proceed with installation of Mac OS X on the 2nd partition. You will get an error message that the "

Installation Failed

". This is perfectly normal; OS X only told you that cause it's detected that the hard drive is not bootable which is something we'll deal with later.

Use the same BootCD-altPS2 disc to boot up Mac OS X on your HP Mini 311 for the first time. Just choose the "

Macintosh HD

" drive icon in the Chameleon boot menu.

Configure your User Account and Install the Mac OS X 10.6.4 Combo Updater. Restart.

Boot up the Mini 311 with the Windows 7 DVD. After choosing the language and clicking "

Next

", once you get to the "

Where do you want to install Windows

?" dialog box, format the partition you allotted to Windows 7 (partition 2) since EFI is your partition 1. If you want the partitions to be absolutely clean - as in no "

Unallocated Space

" between partitions 1 and 3 or between Win 7 and Snow Leo - you can opt to delete partition 2 then create a new one in replacement. Windows 7 will create 2 partitions (100 MB system reserved and main Win 7) but we don't want that. So delete the main Win 7 partition and choose "

Extend

" option to, well, extend the 100 MB System Reserved partition to the now "Unallocated Space". Proceed with installing Windows 7.

The HP Mini 311 will restart and you'll notice that the default OS that it boots up is Windows 7. Just boot into Windows 7 to configure your User Account and login to your Desktop for the 1st time.

Boot into Mac OS X. You do this using the BootCD-altPS2.iso and choosing "

Macintosh HD

". Once you're inside the Desktop, install the

HPM311DP HF6 Installer.pkg

. Installing

HF6RC4 will configure and make OS X the default OS for the HP Mini 311.

Boot the Mini 311 again using the

Windows 7 DVD installer and press Shift + F10 to bring up the Command line. Activate the Windows 7 partition (partition 2) using diskpart, press "

Enter

" after each line:

diskpart

select disk 0

select partition 2

active

exit

Once back in the main Windows 7 installer dialog screen, choose "

Repair Computer

" option. Follow the on screen guide to repair boot for Windows 7. Restart the Mini 311.

Once again, boot with the Windows 7 DVD installer and press Shift + F10 again. This time, we will activate EFI partition (partition 1):

diskpart

select disk 0

select partition 1

active

exit

Quit the Windows 7 installer and restart the HP Mini 311. As the the machine starts up, press and hold F8 key. This will bring up the Chameleon boot menu. You should be able to see 2 bootable volumes: "Untitled" (NTFS) and "Macintosh HD" (HFS).
Congratulations on your Mini MacBook 311 Snow Leopard & Windows 7 dual-boot!
-
Disable "Use secure virtual memory".

In Mac OS X, go to
System Preferences
>
Security
>
General
tab > uncheck "
Use secure virtual memory
". It would require restarting for the change to be fully applied. We do this to help ensure Sleep function has no problems on our hackintosh.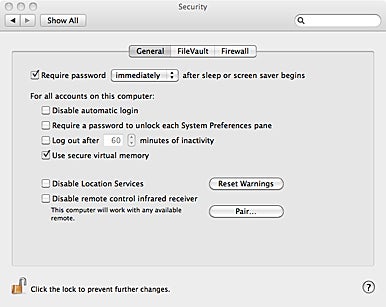 -
Replace stock WiFi with a Snow Leopard compatible card
- For what is a netbook without wireless connectivity, right? Unfortunately, the HP Mini 311's stock wireless module does NOT work under Snow Leopard. Hit the links below for further details:
- Prevent Windows 7 from installing drivers for the stock WiFi + BT combo card. I recommend using the additional WiFi card in Windows 7 for connecting to the internet instead of the stock WiFi + BT combo card. Caution: this will disable Bluetooth under Windows but it will be functional in Mac OS X. Click here for the How-To-Guide.